Horror Show was a hardcore band from Philadelphia. The band was very much in the vein of American Nightmare and many others, with lyrics dealing with loneliness and heartbreak. After the release of their self released demo tape Deathwish put out the debut CD/7"EP, "Our Design", which Horror Show toured the east coast U.S. in support of the release. They also played a number of memorable hometown shows and made an appearance at the Deathwish/Bridge 9 Festival in 2003. In late 2004, Horror Show released their "The Holiday" 7"EP on Deathwish, which came to be their final recording due to singer Nicky Money going to jail for stabbing someone when he was jumped at a show (from what I've herd) causing the band to break up, they had their last show on may 29th 2005. truly an amazing band. For those that don't know Nicky's real name is Domenic Palermo & since the break up he has made a new band called Nothing, he also did a guest part on Xo Skeletons of which Wes Eisold was a member & put out a photo/poetry zine with Matthew Gallagher called "You're Very Beautiful". He is also working on 2 other works one called "We Are Only Enemies my Friend' & the other a collective book with Justin Pearson, Jeremy Gaulke & others both being released by Calico Grounds.
HS was:
Jesse Dillon - guitar
Rick Hass - drums
Matthew Dempsey - bass
Josh Tshirlig - guitar
Domenic "nicky money" Palermo - vocals
"not another sad song, just words from my heart"
Our Design (includes the demo)
download
The Holiday EP
download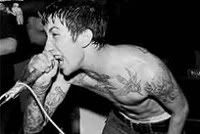 Live at NJ septford skating & fun center
download
Myspace
Dom's Website