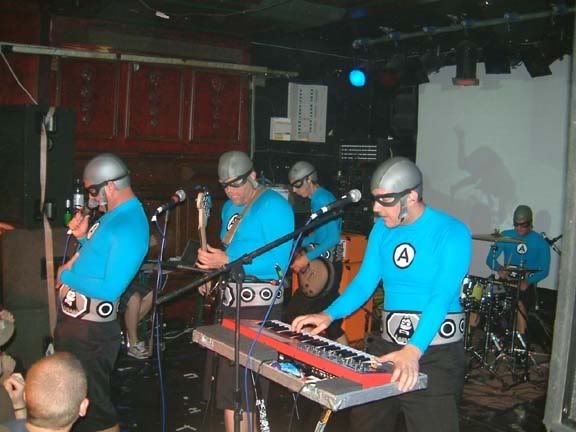 I know you can find this stuff pretty easy but i've been listening to them alot lately so i wanted to post this. The Aquabats (often written as The Aquabats!) are an upbeat Ska/Punk/Pop Punk band formed in 1994 in Orange County, California. They are best known for their mythology, in which they claim to be superheroes on a quest to save the world from evil through music. As a part of this mythology the band members have adopted superhero pseudonyms and dress in matching costumes. Their eclectic live show often includes onstage "battles" with costumed foes, and the band has built up an elaborate and ever-changing backstory of their origins and adventures, along with a roster of allies and enemies. The group's lineup has fluctuated significantly throughout their career, with founding members The MC Bat Commander and Crash McLarson as regular fixtures. The bands early work was heavily rooted in the third wave of ska music, with touches of surf and punk rock. Over the years their music shifted towards more synthesizer-based rock with a new wave influence. The only stuff missing are Both of their demos (which i would love to get a hold of if anyone has them) & the "other rarities of the aquabats!" B-side stuff. Other bands current and ex-members were or are a part of include: Dig Bunae, The Blue Whales, Supernova, B.H.R., GOGO13, Innaway, Death By Stereo, Sense Field, Further Seems Forever, Hunter Revenge, Nuckle Brothers, Farside, The Goodwin Club, Bikeride, Digital Unicorn, Call Sound Call Noise, Assorted Jelly Beans, Blink 182, The Transplants, Box Car Racer, (+44), Expensive Taste, Butt Hole Rebellion, & The Aggrolites
the aquabats are:
The MC Bat Commander (Christian Jacobs) - vocals
Crash McLarson (Chad Larson) - bass, b. vocals, trombone(early days)
Jimmy the Robot (James Briggs) - keyboards, saxophone, brass and wind instruments, b. vocals
Ricky Fitness (Ricky Falomir) - drums, percussion, b. vocals
Eagle "Bones" Falconhawk (Ian Fowles) - guitar, b. vocals
ex-members:
Nacho (Chad Parkin) - keyboards
Roddy B. (Rod Arellano) - drums
Ben the Brain (Ben Bergeson) - guitar
The Baron von Tito (Travis Barker) - drums, percussion
Catboy (Boyd Terry) - trumpet, other brass instruments, backing vocals
Doctor Rock (Gabe Palmer) - drums
The Mysterious Kyu (Charles Gray) - guitar, other string instruments, synthesizer, backing vocals
Prince Adam (Adam Deibert) - trumpet, synthesizer, guitar, backing vocals, hand accompaniment
Chainsaw the Prince of Karate (Courtney Pollock) - guitar
Captain Croxall (Brian Croxall) - trombone
Creedle (Creed Watkins) - guitar
Gumby (Matt Van Gundy) - guitar
Macaroni (Scott Moran) - guitar
Moose Nuckle (John Pantle) - trombone
Patbat - trombone
Popeye (Michael Vogelsang) - guitar
return of the aquabats
DOWNLOAD
the fury of the aquabats!
DOWNLOAD
the aquabats vs the floating eye of death!
DOWNLOAD
charge!!
DOWNLOAD
Myths, Legends, and Other Amazing Adventures, Vol. 2
DOWNLOAD
Yo! Check Out This Ride! EP
DOWNLOAD
aquabats vs gwar (from toneandwave.blogspot.com)
DOWNLOAD