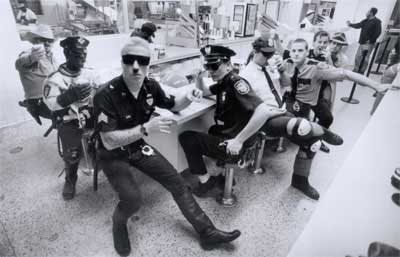 X-Cops was a Joke Metal or "Cop Rock" side project composed of members from the band GWAR and their extended "family" of musicians that formed in 1995. Each member of X-Cops performed in police uniforms and had various fictional personas. They released the album You Have The Right To Remain Silent... on Metal Blade Records. The album included a cover of Deep Purple's "Highway Star" (with different lyrics, to reflect the theme of the album). In addition, they also released a 7" single called Beat You Down. The X-Cops opened for GWAR on stints of their 1995 tour, essentially opening for themselves as every member of GWAR either played an instrument or at the very least sang in the X-Cops. They played their last show in 1996.
Members:
Lt. Louie Scrapinetti (Michael Derks) - Guitar/Vocals
Cadet Billy Club (Mike Dunn) - Drums
Patrolman Cobb Knobbler (Dave Brockie) - Bass
Sgt. Al Depantsia (Pete Lee) - Guitar
Sheriff Tubb Tucker (Casey Orr) - Lead Vocals
Mountain Bike Officer Biff Buff (Brad Roberts) - Extra Vocals
Sgt. Zypygski aka Zipper Pig (Bob Gorman) - Extra Vocals
Detective Phillip McRevis (Dave Musel) - Samples
You have the right to remain silent LP
Download
Beat you down 7"
Download